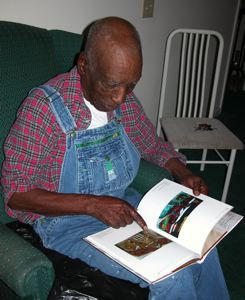 Jimmy Lee Sudduth
American
(Cains Ridge, Fayette County, Alabama, 1910 - 2007)
There are several spellings of the artist's first name. Most common is Jimmy. Other sources use Jimmie. In the painting, Woman with Cow, the artist signed his name Jim Sudduth.
Jimmy Lee Sudduth was one of a group of artists whose creativity expanded the boundaries of what was once considered mainstream art in the twentieth century. These artists, now usually categorized as self-taught, have attracted an enthusiastic audience of collectors and admirers who appreciate the strength and heartfelt sincerity of their productions. Both the artists and collectors are passionate advocates of basic human values and emotions, expressed in an astounding array of media and subject matter. Work like Sudduth's was once considered merely odd or eccentric; now it is cherished for its originality, its joyous spirit, and its evocation of ways of life in the rural South. Sudduth was born in 1910 in Caines Ridge, a small community near Fayette. His mother, Balzola, was a medicine woman of Native American descent who used wild plants in her curative preparations. While accompanying his mother in the woods one day, the young boy created his first painting in mud on a tree stump. This painting survived until their next visit, and Sudduth's mother believed this was a sign he should continue to paint. He did so, but his art remained an avocation for many years until he had more time to pursue it later in life. In Fayette, Sudduth worked at a gristmill and, later, at Brown's Lumber Mill. He eventually became "everybody's yard man," painting in the evenings. Perhaps the most important influence on his evolving artistic career was Jack Black, a neighbor and the publisher of the local newspaper. Black, who was also the founder of the Fayette Art Museum, encouraged his friend to continue to paint and sought out recognition for his work. He helped to arrange Sudduth's first exhibition at the Stillman College art department in 1969. In 1976 Sudduth was featured at the Smithsonian Institution's Bicentennial Festival of American Folklife. A one-person exhibition at the Birmingham Museum of Art followed in 1978, and the artist made an appearance on NBC's "Today" show in 1980. Thereafter, Sudduth's work received increasing exposure and market presence. Over the years, he has been included in almost fifty exhibitions in the United States and Europe. Sudduth's own interests, rather than the marketplace, clearly inspired his art. In 1963 Robert Martin, a young reporter for the Florence Times Tri-City Daily, interviewed the artist, who recalled his artistic beginnings. "I started when I was eight, just drawing on the ground," he said. "Later on though, I began to draw on paper." He told the reporter he had never had any training in art, "except what I've learned myself in the experience." (1) Sudduth's favored medium was something he calls "sweet mud," a combination of clays he dug from the surrounding area mixed with a sugary substance as a binder and sometimes incorporating commercial paint. Over the years, he manipulated his simple materials in a variety of ways. He applied them with his fingers, sticks, brushes, and other implements. For some works, he drew with soft pieces of clay to produce a soft, pastellike finish, while others were built up with heavily applied coatings of mud. He employed plant materials as stains, and charred the surfaces of boards, resulting in a rich, silky, deep black finish. Seemingly his ingenuity was endless—dissatisfied with the blacks achieved by other methods, he reportedly used lawnmower exhaust to smoke a passage to the desired tone. The artist's subject matter was complex and wide-ranging: from people, animals, and situations familiar to residents of western Alabama, to the larger world he experienced mostly through the popular media. Throughout his career, he portrayed wildlife such as squirrels, turtles, and snakes, along with a series of dogs he has owned as pets, collectively known as "Toto." He also made many portraits, obviously reveling in the diversity of his sitters' presentation and dress. An enthusiastic man with a positive outlook, Sudduth conveyed his fascination with the people he portrayed through spontaneous, gestural depictions of their features, hair, and clothing. Like his clay medium, Sudduth was part and parcel of his native state. "I'm easy to find," he once said. "I'm in the center of the universe." (2) In this case, the universe was centered in the town of Fayette in western Alabama. Sudduth gained a reputation by showing his work first in local festivals, and later in national exhibitions. For many years, he was a primary attraction at the annual Kentuck Festival in Northport, near Tuscaloosa. His admirers lined up by the dozen to purchase whatever the artist had brought to sell, and he routinely ran out of work before he ran out of buyers. Sudduth died in 2007 at the age of 97.

(1) Robert Martin, "Artist Jimmy Lee Sudduth Uses Stick, Polish, Dirt," Florence Times Tri-City Daily, 14 July 1963.

(2) Jimmy Lee Sudduth, quoted in Susan Mitchell Crawley, "Jimmy Lee Sudduth" (Montgomery: The Montgomery Museum of Fine Arts in association with River City Publishing, 2005), p. 13.